Robert Gorter, MD, PhD, is emeritus professor of the University of California San Francisco (UCSF)
Melatonin is a substance found in animals, plants, fungi, and bacteria. In animals, it is a hormone that anticipates the daily onset of darkness; however in other organisms, it may have different functions. Likewise, the synthesis of melatonin in animals and humans differs from that in other organisms.
Dr. Gorter summarizes:
The pineal gland is controlling all other circadian rhythms in humans. Its melatonin production increases at sun set / at night, and decreases early in the morning / at sun rise. The pineal gland responds to photoreceptors in the eye but also to those photoreceptors in the skin;
Melatonin is a very strong antioxidant;
Melatonin is a strong immunomodulator and enhances especially the immune functions of the cellular immune system (Th1 response): thus a very important characteristic in patients living with e. cancer and chronic viral infections. Several clinical trials now report on the increased improved outcome and prolonged survival of cancer patients when melatonin is added;
Melatonin has significant anti-aging activities and combined with Viscum album, early degenerative tissue damage of chronic disease and aging can be completely reversed or, significantly improved;
Melatonin can effectively exhibit DNA repair: especially in combination with Viscum album;
Melatonin initiates the onset of puberty and orchestrates gender maturation. Body hair and hair on the scalp now darken as part of these pineal gland effects. The Ego now incarnates deeper into the rhythmic- and metabolic systems;
Melatonin has strong anabolic effects and is an ideal supplement for those involved in (extreme) sports where muscle strength, endurance and condition play an important role.
NB: Blue light from television, PC and laptop screens are of the sources of the worst blue lights one can be exposed to and by leaving a television set or laptop screen on during the night will suppress melatonin production significantly.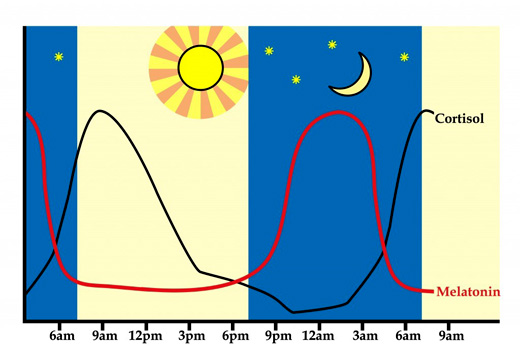 ---
Sleep is one of the most important factors in maintaining optimal health and repair mechanisms, leading to significant increase of life expectancy and decrease of degenerative disease (anti-aging)
Melatonin is a substance found in animals, plants, fungi, and bacteria. In animals, it is a hormone that anticipates the daily onset of darkness; however in other organisms, it may have different functions. Likewise, the synthesis of melatonin in animals and humans differs from that in other organisms.
Melatonin was first discovered in connection to the mechanism by which some amphibians and reptiles change the color of their skin. As early as 1917, Carey Pratt McCord and Floyd P. Allen discovered that feeding extract of the pineal glands of cows lightened tadpole skin by contracting the dark epidermal melanophores.
In 1958, dermatology professor Aaron B. Lerner and colleagues at Yale University, in the hope that a substance from the pineal might be useful in treating skin diseases, isolated the hormone from bovine pineal gland extracts and named it melatonin. In the mid-70s Lynch et al. demonstrated that the production of melatonin exhibits a circadian rhythm in human pineal glands.
The pineal gland is a small endocrine gland in the vertebrate brain. It produces melatonin and it secretes melatonin and it initiates the onset of puberty. Its shape resembles a tiny pine cone (hence its name), and it is located in the epithalamus, near the center of the brain, between the two hemispheres, tucked in a groove where the two halves of the thalamus join.
Nearly all vertebrate species possess a pineal gland. The most important exception is the hagfish, which is often thought of as the most primitive extant vertebrate. In this Hagfish, the pineal gland can still perceive shades of light and darkness through its skull made of cartilage.
The results of various scientific research in evolutionary biology, comparative neuroanatomy and neurophysiology, have explained the phylogeny of the pineal gland in different vertebrate species. From the point of view of biological evolution, the pineal gland represents a kind of atrophied photoreceptor. In the epithalamus of some species of amphibians and reptiles, it is linked to a vestigial organ, known as the parietal eye which is also called the third eye.
René Descartes believed the pineal gland to be the "principal seat of the soul". Academic philosophers among his contemporaries considered the pineal gland as a neuroanatomical structure without special metaphysical qualities; science studied it as one endocrine gland among many. However, the pineal gland continues to have an exalted status in the realms of metaphysics and psycho-spirituality.
The discovery that melatonin is a strong antioxidant was made in 1993. Around the same time, the hormone got a lot of press as a possible treatment for many illnesses. The New England Journal of Medicine editorialized in 2000: "With these recent careful and precise observations in blind persons, the true potential of melatonin is becoming evident, and the importance of the timing of treatment is becoming clear."
In animals, melatonin is involved in the entrainment (synchronization) of the circadian rhythms of physiological functions including sleep timing, blood pressure regulation, seasonal reproduction and many others. Many of melatonin's biological effects in animals are produced through activation of melatonin receptors, while others are due to its role as a pervasive and powerful antioxidant, with a particular role in the protection of nuclear and mitochondrial DNA. Therefore, as part of the Gorter Model, in patients living with cancer and other chronic diseases, the combination of melatonin at bed time with Viscum album enhances still further the DNA repair mechanisms of Viscum album.
Melatonin has been reported in foods including cherries to about 0.17–13.46 ng/g, bananas and grapes, rice and cereals, herbs, plums, olive oil, wine and beer. When birds ingest melatonin-rich plant feed, such as rice, the melatonin binds to melatonin receptors in their brains. When humans consume foods rich in melatonin, such as banana, pineapple and orange, their blood levels of melatonin increase significantly.
In vertebrates, melatonin is produced in darkness, thus usually at night, by the pineal gland, a small endocrine gland located in the center of the brain but outside the blood–brain barrier. Light/dark information reaches the suprachiasmatic nuclei (SCN) from retinal photosensitive ganglion cells of the eyes as well as from light receptors in the skin. Known as "the hormone of darkness", the onset of melatonin at dusk promotes activity in nocturnal (night active) animals and sleep in diurnal ones including humans.
Many animals use the variation in duration of melatonin production each day as a seasonal clock. In animals including humans, the profile of melatonin synthesis and secretion is affected by the variable duration of night in summer as compared to winter. The change in duration of secretion thus serves as a biological signal for the organization of day length-dependent (photoperiodic) seasonal functions such as reproduction, behavior, coat growth and camouflage coloring in seasonal animals. In seasonal breeders that do not have long gestation periods and that mate during longer daylight hours, the melatonin signal controls the seasonal variation in their sexual physiology, and similar physiological effects can be induced by exogenous melatonin in animals including mynah birds and hamsters. Melatonin can suppress libido by inhibiting secretion of luteinizing hormone (LH) and follicle-stimulating hormone (FSH) from the anterior pituitary gland, especially in mammals that have a breeding season when daylight hours are long. The reproduction of long-day breeders is repressed by melatonin and the reproduction of short-day breeders is stimulated by melatonin. During the night, melatonin regulates leptin, lowering its levels.
Circadian rhythm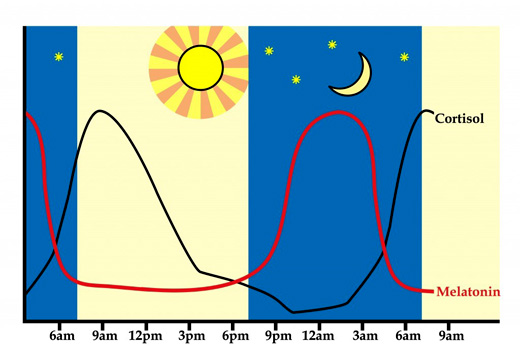 In animals, the primary function is regulation of day-night cycles. Human infants' melatonin levels become regular in about the third month after birth, with the highest levels measured between midnight and 8:00 AM. Human melatonin production decreases as a person ages. Also, as children become teenagers, the nightly schedule of melatonin release is delayed, leading to later sleeping and waking times.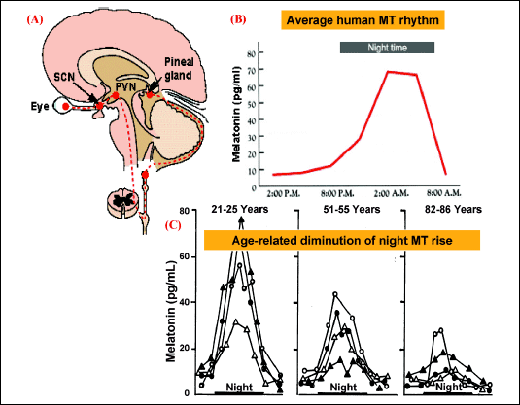 To summarize: by aging the production of melatonin decreases but the decline can be hastened by life style and many classes of prescription drugs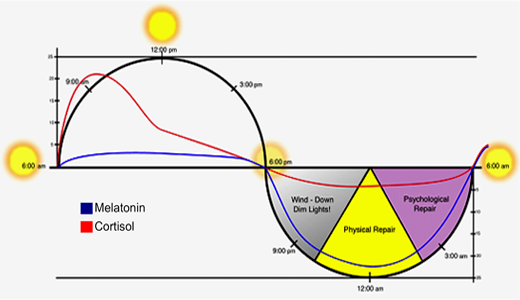 Today, one lives in a fast-paced, high-stress environment that allows having something to do 24 hours of the day. One is living in a world full of artificial light and is bombarded by sensory impressions like sounds (noises), and visual stimulation, like actively participating in traffic in a modern city.
When one is in his younger years, he assumes that one can live and function with less sleep and catch up with sleep in the "Home for the Elderly."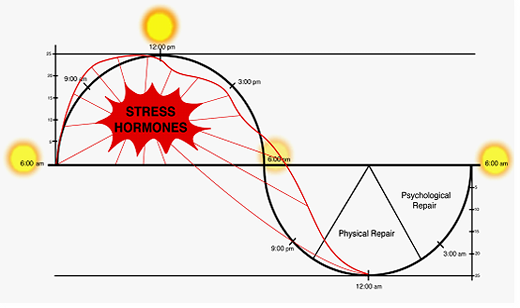 As the sun rises, the body experiences more stress through light and just the fact to be conscious and self-conscious, cortisol levels also will continue to rise and they will peak around noon (in many cases they keep rising till 7-9 pm). Thus, as the day evolves our stress hormones increase. Cortisol levels drop towards the end of the afternoon and evening so that it can allow for the release of melatonin and increase levels of growth and repair hormones at night.
It is important to notice that most literature agrees that being asleep between 11 pm and 7 am is most desirable and that the emphasis of physiologic recovery is between 11 pm and 3 am and that the psychological recovery from 3 am on. The REM sleep is also most significant from 3 am till wakening up.
Immune system
While it is known that melatonin interacts with the immune system, the details of those interactions are unclear. Anti-inflammatory effect seems to be the most relevant and most documented in the literature. There have been few trials designed to judge the effectiveness of melatonin in disease treatment. Most existing data are based on small, incomplete clinical trials. Any positive immunological effect is thought to be the result of melatonin acting on high-affinity receptors (MT1 and MT2) expressed in immunocompetent cells. In preclinical studies, melatonin may enhance cytokine production, and by doing this, counteract acquired immunodeficiences. Some studies also suggest that melatonin might be useful fighting infectious disease, including viral, such as HIV, and bacterial infections, and potentially in the treatment of cancer. In the Gorter Model, melatonin is prescribed to cancer patients at bed time. Several observational studies by Robert Gorter et al. have documented that 5 mg melatonin at bed time have a positive effect on well-being and overall outcome in their cancer-patient populations.
In vertebrates, melatonin secretion is regulated by norepinephrine. On exposure to (day-) light, noradrenergic stimulation stops and the protein is immediately destroyed by proteasomal proteolysis. Production of melatonin is again started in the evening at the point called the dim-light melatonin onset (DLMO).
It is principally blue light, around 460 to 480 nm that suppresses melatonin production, proportional to the light intensity and length of exposure. Until recent history, humans in temperate climates were exposed to few hours of (blue) daylight in the winter; their fires gave predominantly yellow light. The incandescent light bulb widely used in the twentieth century produced relatively little blue light. Kayumov et al. showed that light containing only wavelengths greater than 530 nm does not suppress melatonin in bright-light conditions. Wearing glasses that block blue light in the hours before bedtime may decrease melatonin loss. Use of blue-blocking goggles the last hours before bedtime has also been advised for people who need to adjust to an earlier bedtime, as melatonin promotes sleepiness.
Keeping a light on at night suppresses the body's melatonin production, reducing the effectiveness of the breast-cancer drug tamoxifen, a study suggests. But also, in all malignancies, supplementation with melatonin improves outcome.
Dr. Gorter:

"If one sleeps with the lights on or leaves the television or laptop on, that light can penetrate through your eyelid, hit your retina and have a negative effect on melatonin production, depending on the intensity of light."
(Blue) light exposed to the skin only can also suppress nightly melatonin production; not just exposure of the eyes (retina)."